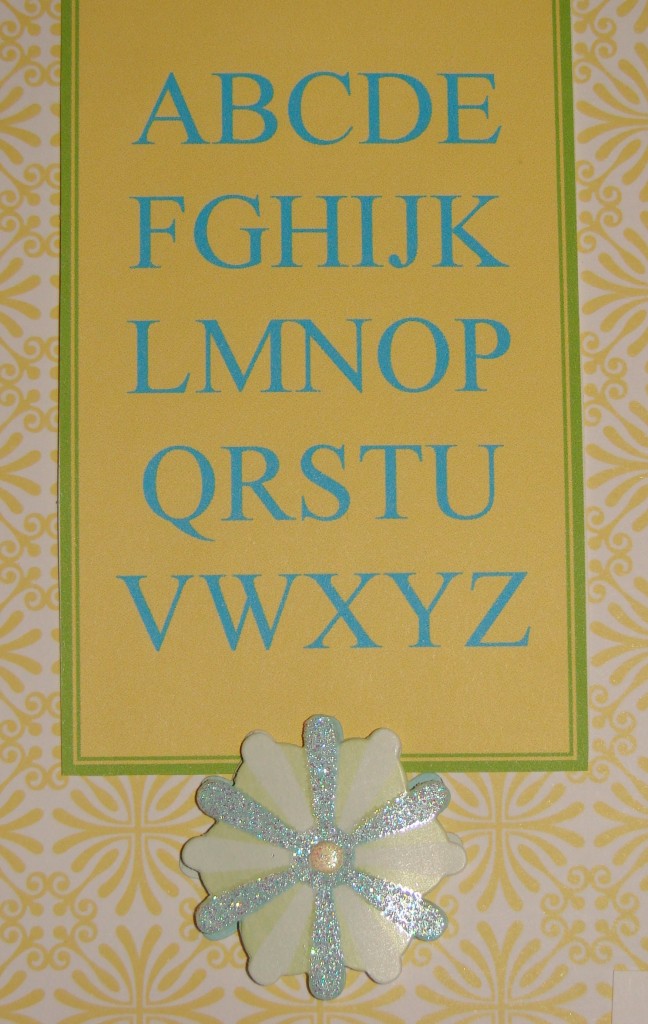 When I was in junior high school, I worked in the school's library. I think it was actually an elective course I took, to get out of taking a foreign language. While I now regret that I do not speak foreign languages, working in the library had its own rewards.
Re-shelving required me to focus my attention on books I would otherwise never have discovered. One example: My Great-Grandfather and I, a fiction book about a boy whose great-grandfather was his informal teacher and poetic muse. They played with words the way some kids played with toys, and it made a huge impression on me.
One of the linguistic tasks they set for each other was to write alphabet poems — rhyming verses structured and constrained by the 26 letters of the English alphabet. Inspired, I started to write alphabet poems for people, both friends and family members, to celebrate their lives and our relationships.
As I got older and busier, the alphabet poems got fewer and farther between. But then, around my son's 14th birthday, I remembered them and decided to write one in his honor. This time, I decided to go one step farther and create a scrapbook for the poem. Twenty-six pages, one for each letter of the alphabet. (Later, it grew to 28 with the addition of a title page and an afterword.)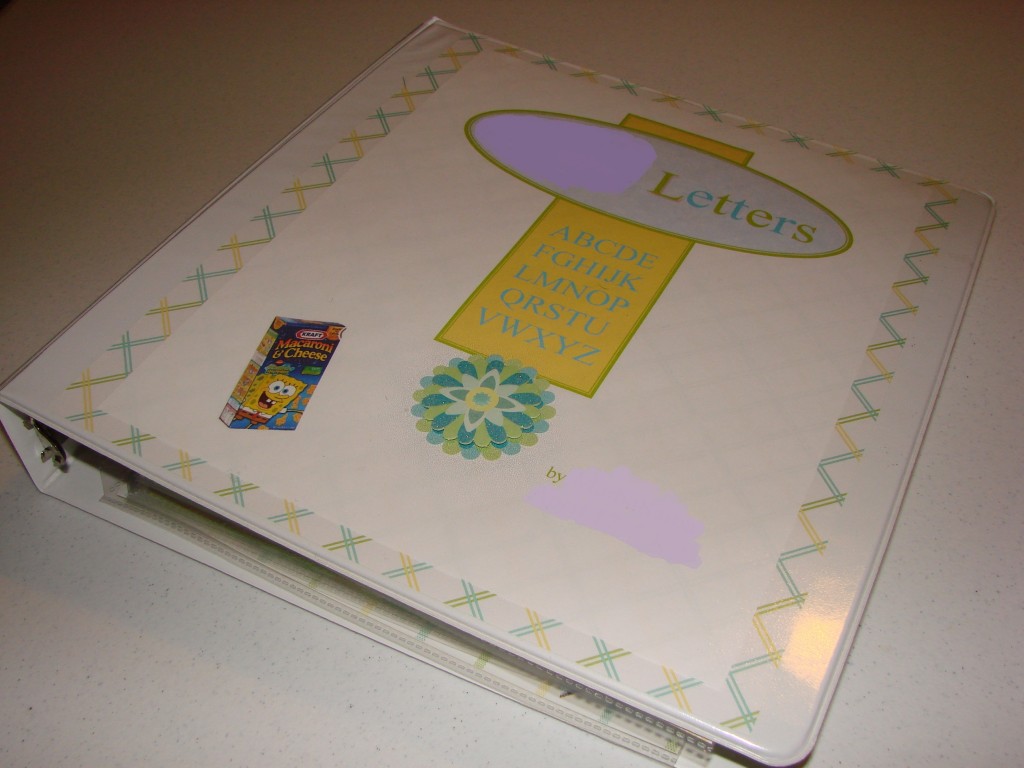 Sorry for removing things from this image, but my son (who is a teenager, after all, and who therefore has a heightened sense of privacy) requested anonymity. And yes, that is a small picture of a box of Sponge Bob Squarepants macaroni and cheese… it's an inside joke.
You don't have to be a great poet to do this project. What you DO need is:
a long history with the honoree (so that you will have enough "material" for the poem) and
scrapbooking materials, including a scrapbook or binder and 26-28 pages worth of material and
memorabilia (things like photos, ticket stubs, etc.) and
quite a bit of time.
This is a great "group project" for youth groups or classmates, coworkers, team members or family members to do together, and then give as a gift to their mutual leader/friend/relative. Not only does it lighten the workload, but it can also be a bonding experience for the group.
Step 1: Brainstorm items for your poem.
List all the letters of the alphabet on a page, one letter per line. Then begin listing things from the honoree's life, beside each letter. Be sure to think about:
Activities and hobbies,
Jobs and positions they have held,
Favorite sayings or catch phrases,
Significant relationships (children, spouses, pets, and relatives)
Names of places they have lived, or enjoy going,
Moments or experiences that the two of you have shared,
Personal attributes or characteristics,
Their "favorites" (colors, foods, songs, etc.),
Inside jokes (like the macaroni and cheese thing)
Things suggested by photographs you want to include in the book.
If you are planning to give the book as a gift, be sure to include the occasion (birthday, anniversary, wedding, graduation) and maybe the significant number (e.g. 25 years).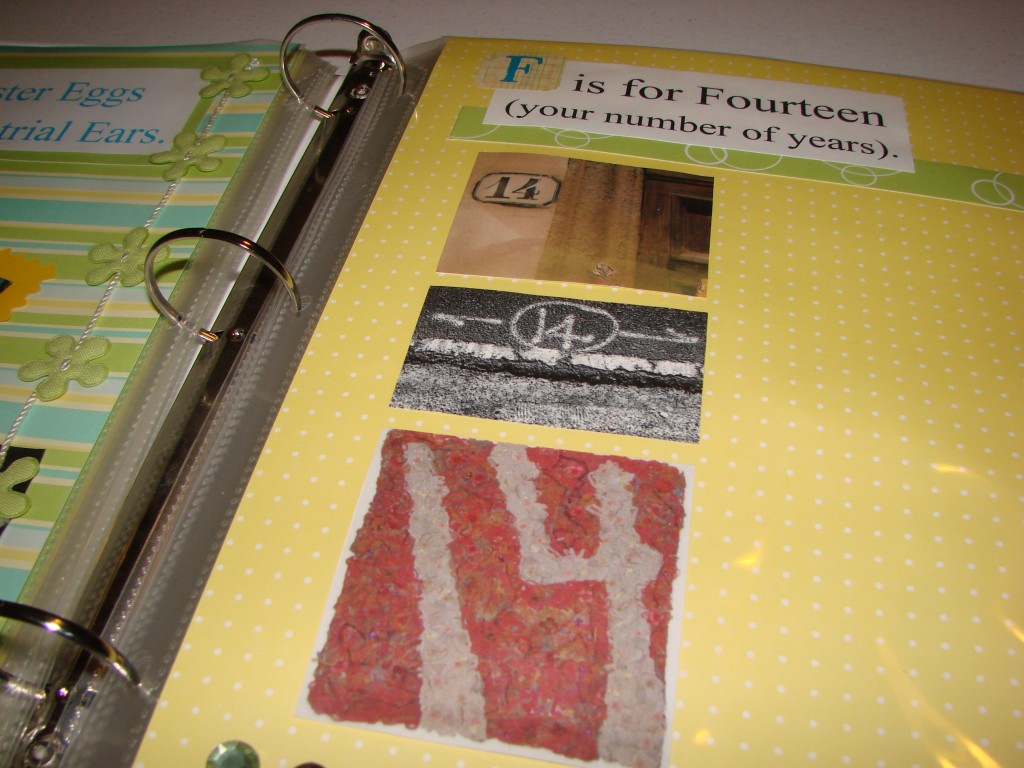 Obviously, you need to keep going until you have at least one item for each letter. More is okay. Don't worry — if you cannot think of personalized items for each letter, you can use some generic "filler" items. This is almost always necessary, especially for exotic letters like Q and X and Z. Here are some generic items /lines that you can use if you find yourself stuck:
"A is for alphabet, that's this poem's theme…"
It can also stand for adventures, affection, allure, ardor, awards, anticipation, aunts, antics, attitude, academic, artistic, actor/actress, abilities, all-around, all-nighters, A-B-Cs…
B could stand for "BFF", brains,  busy, boyfriends, business, birthday, beautiful,beach, brotherhood, behavior, buddies, boss, boys, boyhood, babies…
C might be cheerful, comical, crazy, cuddly, charming, cool, caring, classy, church, cell phone, computer, crafts, catty, Christmases, cousins, co-workers, clubs…
D could be dashing, dates, dinners, dapper, daring, darling, dandy, ditzy, dog, daughter, Dad, Daddy…
E might be engagement, earthy, exciting, educated, enticing, eagerness, ear buds, Easter eggs, energy…
F could be friendship, fondness, family, fine, fantastic, fickle, funny, fortune, fortitude, Facebook, fans, friends, former, father, fatherhood…
G might be giving, girlfriends, games, grandparents, godparents, gentleman, graduation, goals, goodness, greatness, gifts, girls, girlhood, girly, grown up, gladness, grunge…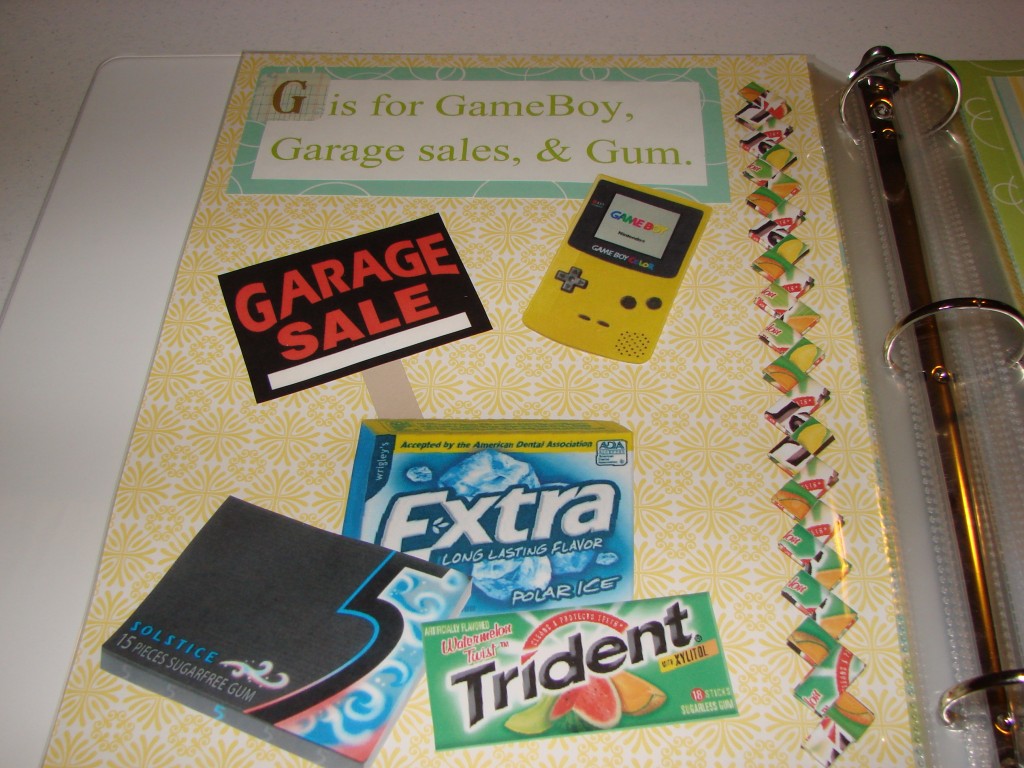 H could be happiness, home, hometown, heavenly, host/hostess, handy, "hear from you", heart, heartache, holidays, happily-ever-after, hugs, husband…
I might be intelligent, I-Pod, insightful, interesting, illness, ink, independence (or Independence Day), Internet, instant messaging…
J could be jokes, joy,  jinx, jovial, jack-of-all-trades, jet-setter, jubilee, jazzy, java, jive, jumble, jumping…
K might be kisses, kids, kin, key-to-my-heart, kindness, killjoy, kitten, kindle, kitschy, kit-and-caboodle…
L could be love, laughter, listener, lunches, likable, loyalty, lame, lunacy, lusty, lovable, LOL, links…
M might be movies, music, magic, mystery, merry, motley, memories, mouthy, momentous, modern, munchies, Mom, motherhood…
N could be news, New Years, nearness, nesting, nights, naps, neighbors, neighborhood…
O might be own, "OMG!", opposites, overboard, organization, old-fashioned, oldies, one, open-hearted, over-the-hill…
P could be playful, parties, pictures, pets, prizes, presents, personality, people, peeves, pranks, popularity…
Q might be quiet, quaint, quick, question, quest, quandary, quotes, quilt, quarter…
R could be relatives, restaurants, riddles, roots, reading, restful, romance, rowdy, rustic, rugrats, rock star…
S might be sisters, sisterhood, siblings, shopping, sports, silly, sleepy, secrets, sharing, shows, school (or schoolmates), son, sensational, sexy, singers, spouses…
T could be talking, texting, Twitter, tweeting, team/teammates, telephone, trust, time, theater, theme, trysts, troublemaker, TV, terrible, tinkering…
U might be understanding, undertaking, unity, undercover, upper-class, uber-[something], uncle…
V could be vacations, visitors, victories, Valentines, video games, vanity, variety, vistas, Visa, ventures…
W might be weddings, walks, welcome, wonderful, weather, worldly, world traveller, words, wishes, wife…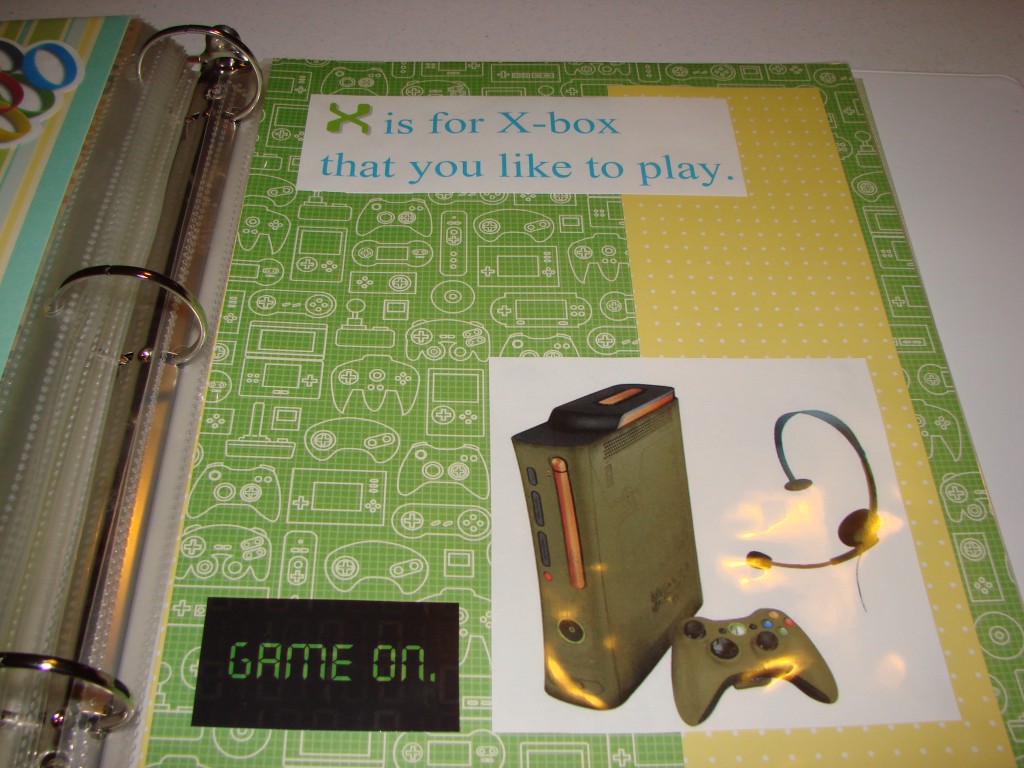 X could be X-box or Xmas, but unless the honoree happens to play the xylophone, there's a good chance you'll be forced to cheat and choose words that begin with "ex" rather than X: extra-special, excitement, exams,  exceptional, extreme, etc.
Y might be yesterday, YouTube, yawning, years, youth, younger, youngsters, yelling, yipee!…
"Z is for zee end, zank goodness zat's all!"
Z can also stand for ZZZZs, zany, or zeal.
Get the idea?
Step 2: Write the poem.
After brainstorming, the next step is to actually write the poem.
You'll need to chose a meter (beat) and a rhyme scheme to keep the whole thing unified and consistent, especially if several people are sharing the writing responsibilities.
Most of my alphabet poems have had this simple beat/meter:
DUM-diddy-DUM-diddy-DUM-diddy-DUM.
It is well-suited to this task because it allows your lines to begin, "A is for…" or "B stands for…"
As for rhyme scheme, the simplest way to go is rhyming couplets. The first two lines rhyme with each other, then the next two, then the next two, etc.
So for example:
A is for alphabet, that's this poem's theme.

B's the best baby that we've ever seen!

C is for cuddling and cute chubby chins,

D's "Daddy's Darling" with dimples and grins.
Notice that in some cases, I've changed the beginning of the line to make the beat come out right. Here are some variations you can use: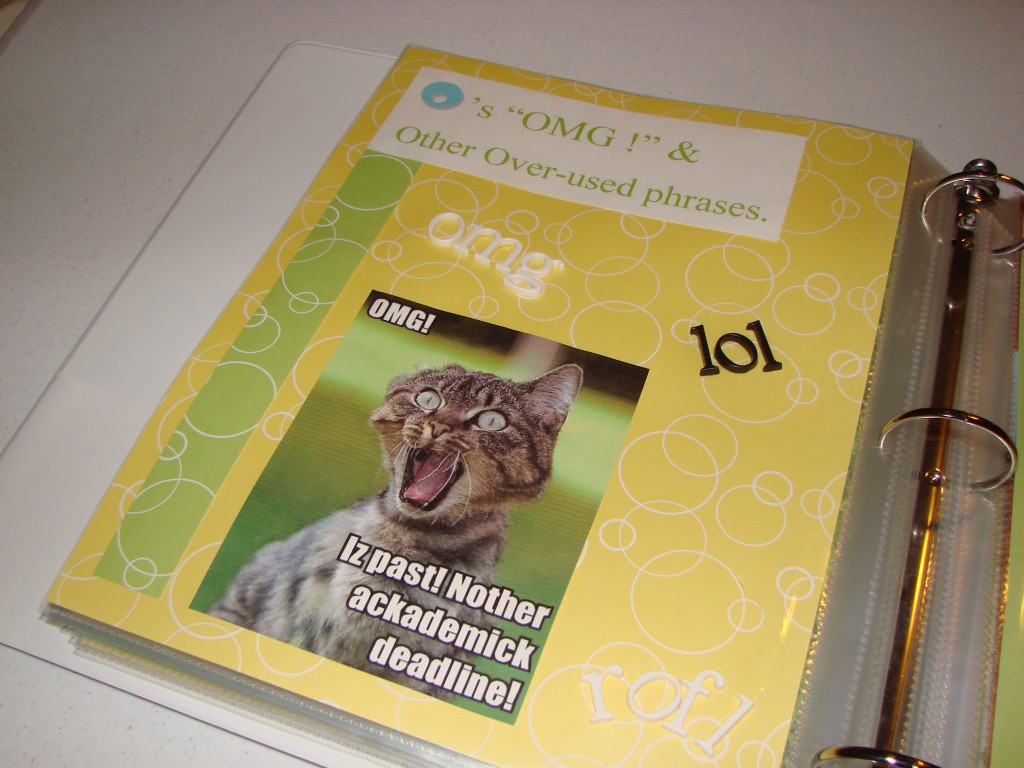 Hints and Tips:
Avoid putting "tough words" like orange or purple at the end of a line. Instead, tuck those in the middle of lines and try to end lines on simple, short words that have more rhyming possibilities.
Once you have one line complete, brainstorm rhyming words for the

end

of the other line that needs to rhyme with it.  Rhyming dictionaries may be helpful for this.
I find my couplets actually come out stronger if I work backwards, coming up with the

second

line of the couplet first and then forcing the first line to conform to it. That way, your couplet ends on a strong note rather than a weaker one.
If you're stuck, change around the phrasing of the line or switch the last word to a synonym, to get a different word at the end. That will open up new rhyme possibilities.
If you are still stuck, seek assistance from friends (writing the poem is often a fun group task!) or from Internet sources.
Caution: Take care not to exclude anyone. For example, if you mention mom, you better mention dad as well!
You may want to include a title page and and afterword, as I did — this gives the advantage of having the rhyming couplets on facing pages for easier reading.
Step 3: Design and create the scrapbook.
The last step is putting together the scrapbook. If it is a group project, have each person do a few pages.
I used a lot of images from the web to depict the items for each letter. Most of my pages also had pictures of the honoree — I'm not showing those pages at my son's request.
The book will look more cohesive if you stick to a specific color scheme (although it certainly isn't necessary). Using a prepackaged set of paper is an easy way to accomplish this.
I'm fairly new to scrapbooking (this was one of my very first projects), so I am no expert at page design! There are a lot of great resources (magazines, web sites, etc.) if you want inspiration on how to do that aspect of your project. Have fun with it! I know that whoever receives a book like this will be thrilled and appreciative. Be sure to leave a comment to tell about your own alphabet poem scrapbook!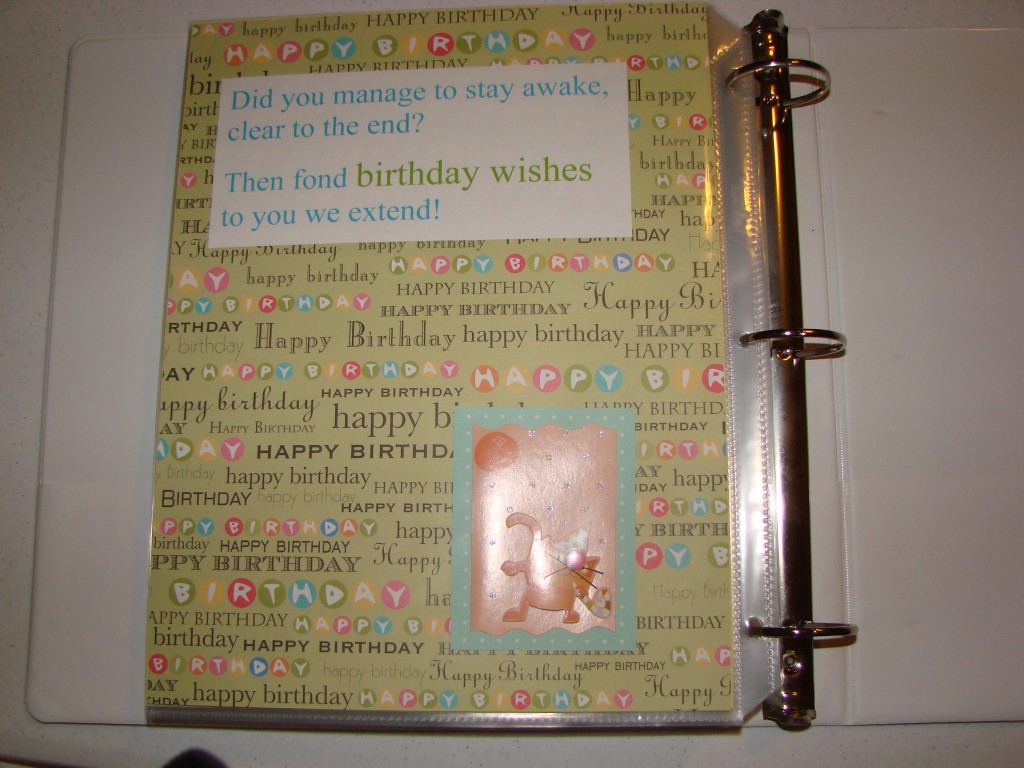 Related Posts :