Courtside cookies!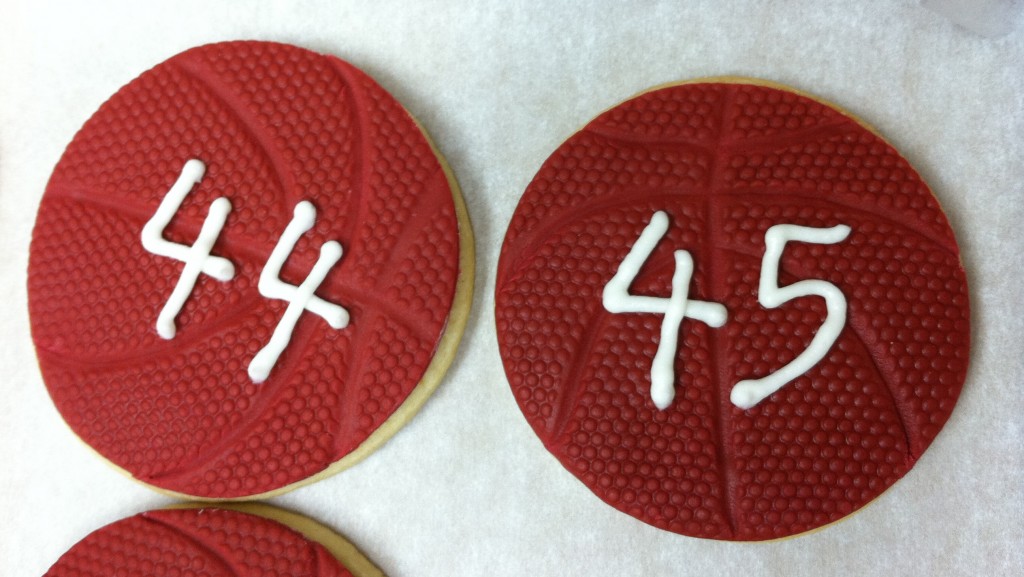 A co-worker asked me to make some cookies for her daughter's basketball team banquet. She wanted maroon-colored basketballs with white numbers (incorporating the team colors and the individual players' numbers.)
I was more than happy to oblige. I have an embarrassingly vast collection of cookie-decorating paraphernalia, and happened to have a "sports ball" cookie cutter texture set.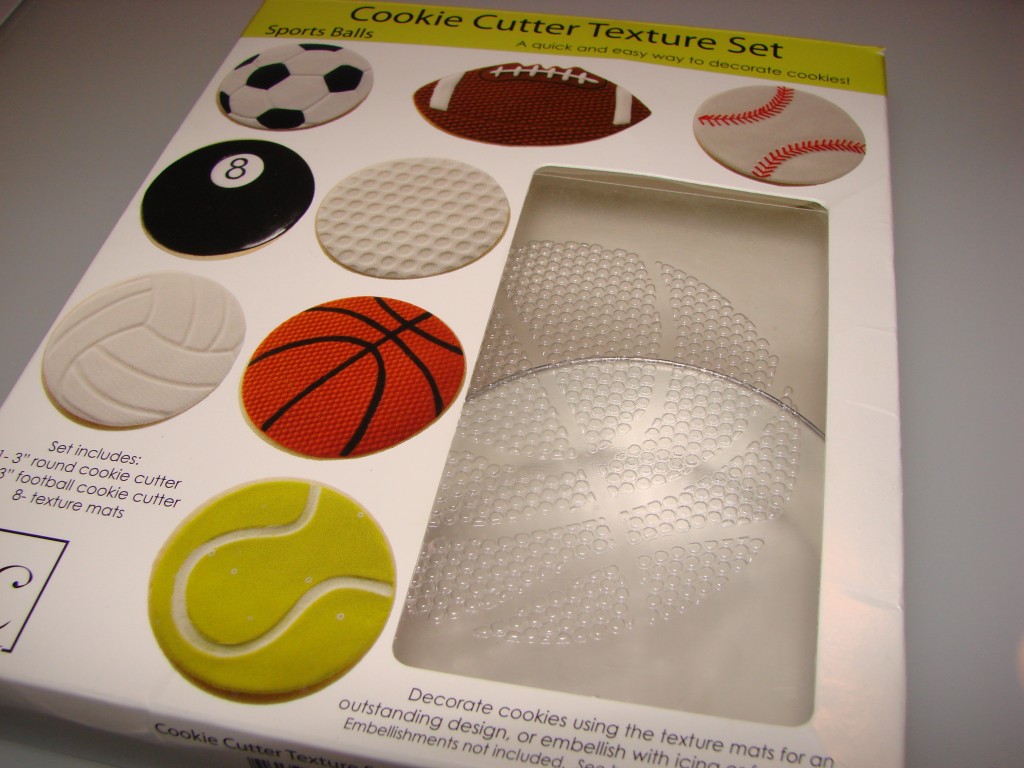 I originally purchased the set to make tennis ball cookies for my son's team. But since then, I've used it a couple of other times: once when making golf ball cookies for a golfing-themed fund raiser, and once when making volleyball cookies for a high school team.
So it was a no-brainer to pull it out again for the basketball cookies. I baked round butter cookies (the set includes a matching round cutter), and then tinted some fondant and rolled the texturizing mat atop the fondant. I deepened the lines on the ball using the rounded handle end of a plastic (cake decorator's) paint brush. Then I used the round cutter again to cut out the texturized fondant basketballs.
I used a silicone brush to apply a little corn syrup to the top of a cooled cookie immediately before applying the fondant basketball, making sure it was centered on the cookie.
The numbers were just piped on, free-hand.
The basketballs came out just fine, but I went a step further by also making an equal number of backboard/hoop cookies, personalized with all the players' names.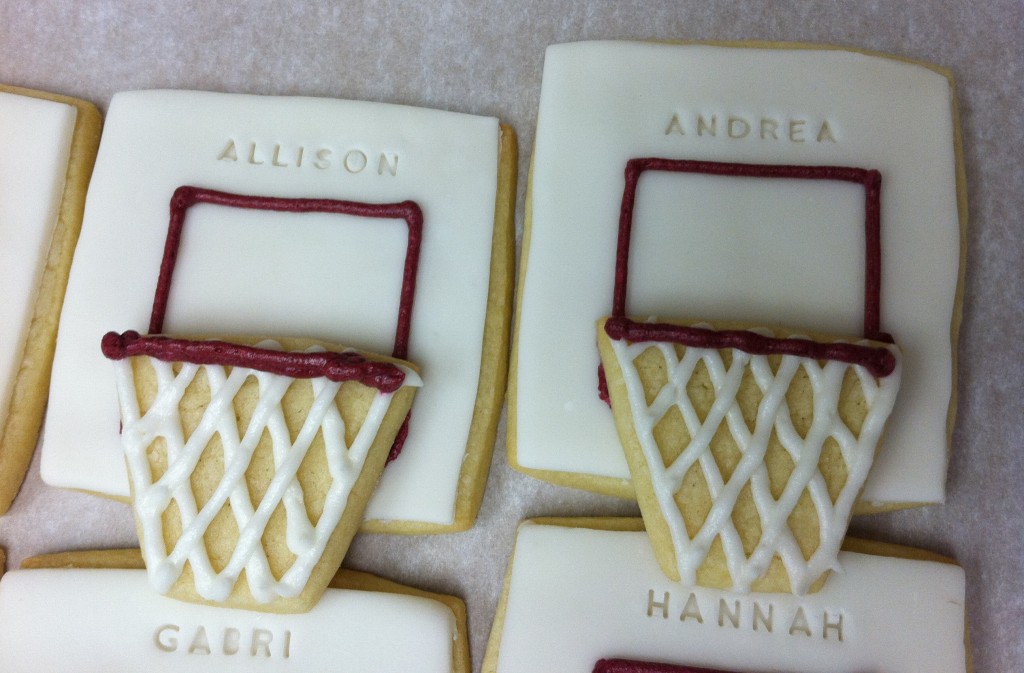 I had seen some similar cookies posted on Flickr by Brenda's Cakes. Mine are a little different from Brenda's, because the hoop is a separate cookie from the backboard.
In my enormous cookie cutter collection, I happened to have a 2.5-inch square cutter for the backboards, a 1.5-inch square cutter for marking guidelines (later piped over) on the fondant, and an appropriately-sized little trapezoid cutter for the baskets.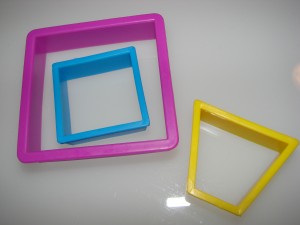 But even if you don't, the shapes are all very basic and could easily be hand-cut. Or you could always make your own cookie cutters.
For the nets, I just piped thin stripes of icing parallel to each side of the trapezoid, forming diamond shapes.
For the lettering, I used a German cookie personalization set.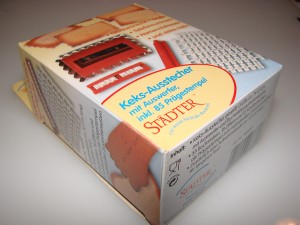 It works just like old-style typesetting — you slide tiny (backwards) plastic letters into a special plastic holder, and then press them gently into the fondant. It is important to let the fondant "set" a little before impressing the names; otherwise, the letters can stick.
The team loved the cookies, and I loved making them.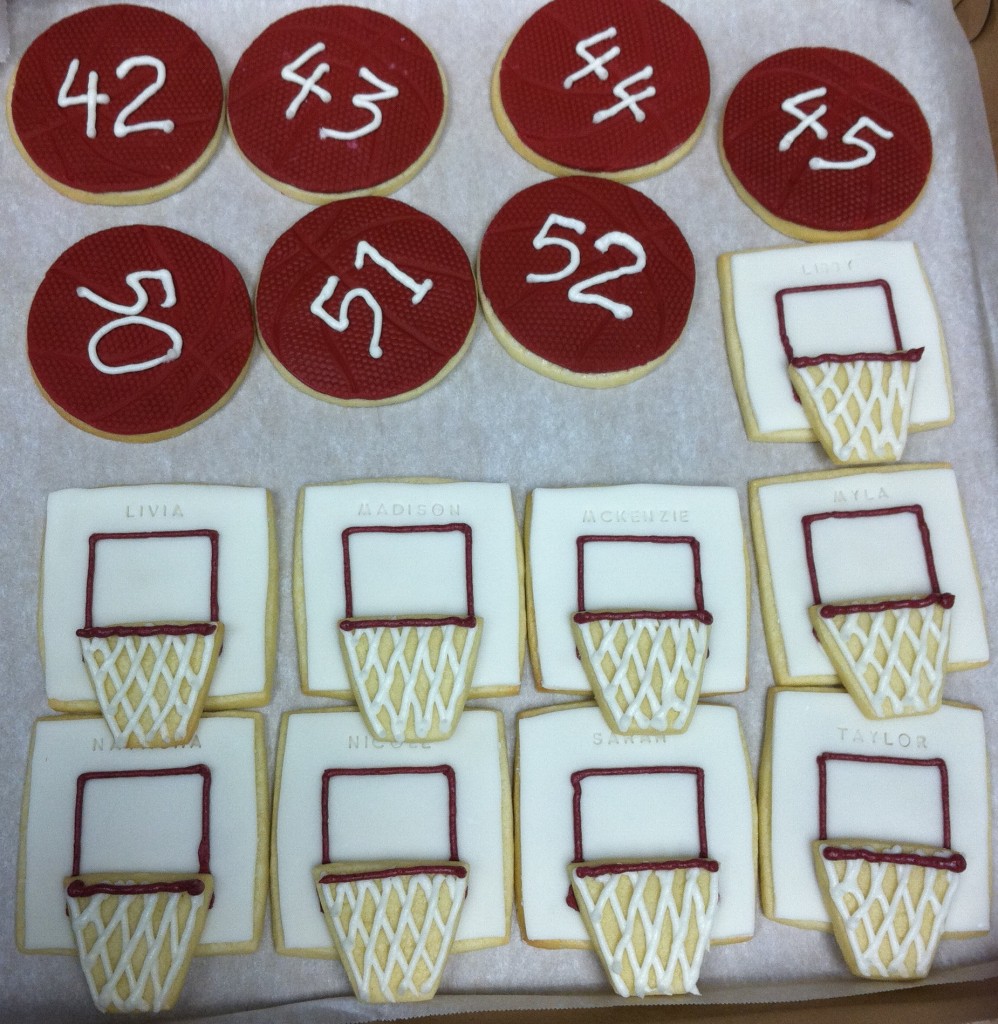 Booya!
Related Posts :