Embroidered Days of the Week Tea Towels

A co-worker of mine married recently, and I thought immediately of a traditional wedding gift in my family, tea towels embroidered with various colorful designs and the names of the days of the week. No one knows how many sets of these my grandmother has made over the years… but my mom and my aunt and all of us grandkids own at least one set.
I don't know why we call them "tea towels." We have always used them as dish towels, to dry the dishes after hand-washing.  The light, cotton cloths are absorbant and dry quickly.
You can find a large assortment of iron-on transfers at craft and fabric stores, in the embroidery section. Typically, these are the "Aunt Martha's" brand. They are very inexpensive — one set of days-of-the-Week designs cost me about $1.50. Vintage designs are also available on the Internet.
The designs I love the most are the ones that depict different chores, advising the new bride how to organize her housekeeping schedule. For example…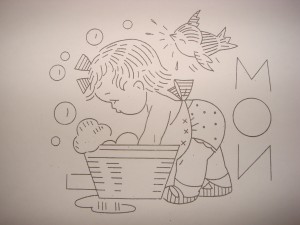 Monday might be wash day,
Tuesday ironing day,
Wednesday mending/sewing,
Thursday grocery shopping,
Friday house cleaning,
Saturday baking, and
Sunday resting (and of course, going to church).
(The iron-on designs will look backwards, but they'll turn the right way around when you iron them in place.) Much as I love the chore designs, I worried that my co-worker might not appreciate the idea of domestic advice, so I chose something a little safer — Fanciful Fruit.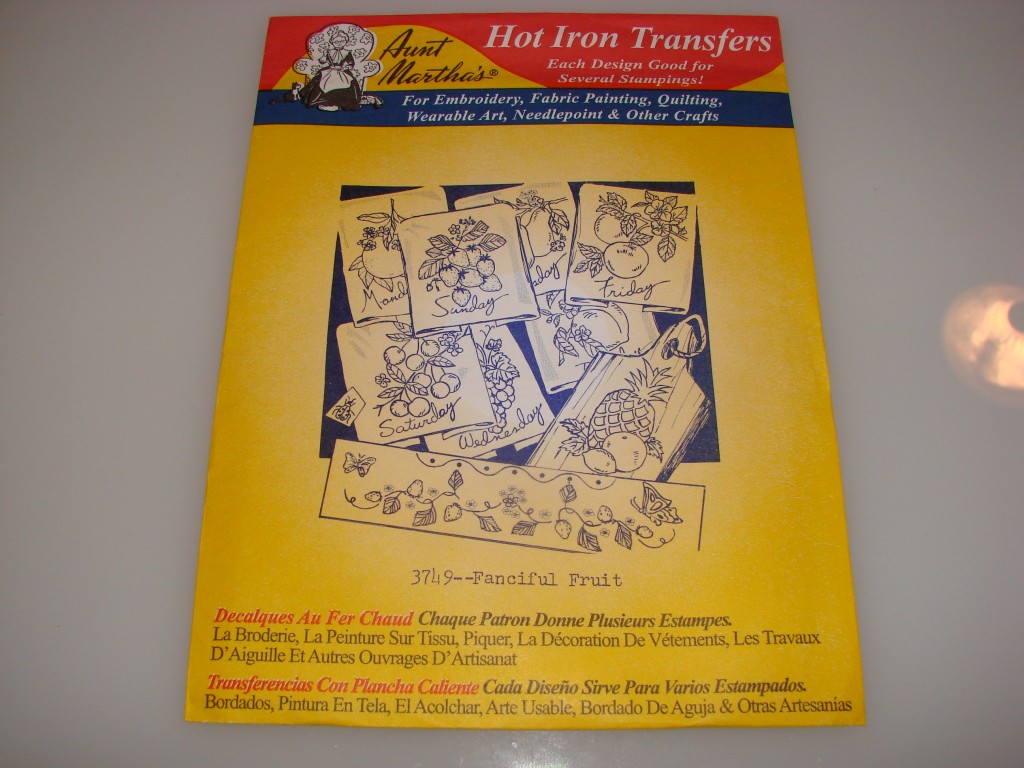 When I toddled off to buy my own blank towels, I was disappointed that they do not sell "the right kind" any more. In my mind, tea towels are a certain size and shape and weight, but I could not find exactly what I was looking for at local craft or fabric shops.
I found something close at Wal-Mart, so I bought some, but when I washed them, they all became a wrinkled mess — completely unsuitable for the pretty little hand-embroidered tea towels I had in mind.  So out I went, to shop some more. I finally found a workable product at Farm and Fleet.
Here are a few tips for you, if you decide to make some DOW tea towels.
First, you must pre-wash the cloths. (If you don't, they may shrink and pucker around your stitching.)
Cut apart the iron-on transfers.
Then center each one at one end of a cloth, leaving a couple of inches down below (so that you'll be able to use an embroidery hoop to hold the fabric taut as you are working).
Make sure your iron is dry (no steam) and press for a few seconds (follow the directions on the package of transfers), making sure that the transfer does not shift its position. You'll want to put some "scrap fabric" underneath, because the transfer ink can bleed through the thin tea towels, messing up your ironing board cover.
I have not done embroidery since I was a girl (longer ago than I care to admit!), but it didn't take long to get the hang of it again, because the tea towels use very basic stitches, such as outline stitch, lazy daisy, and French knot.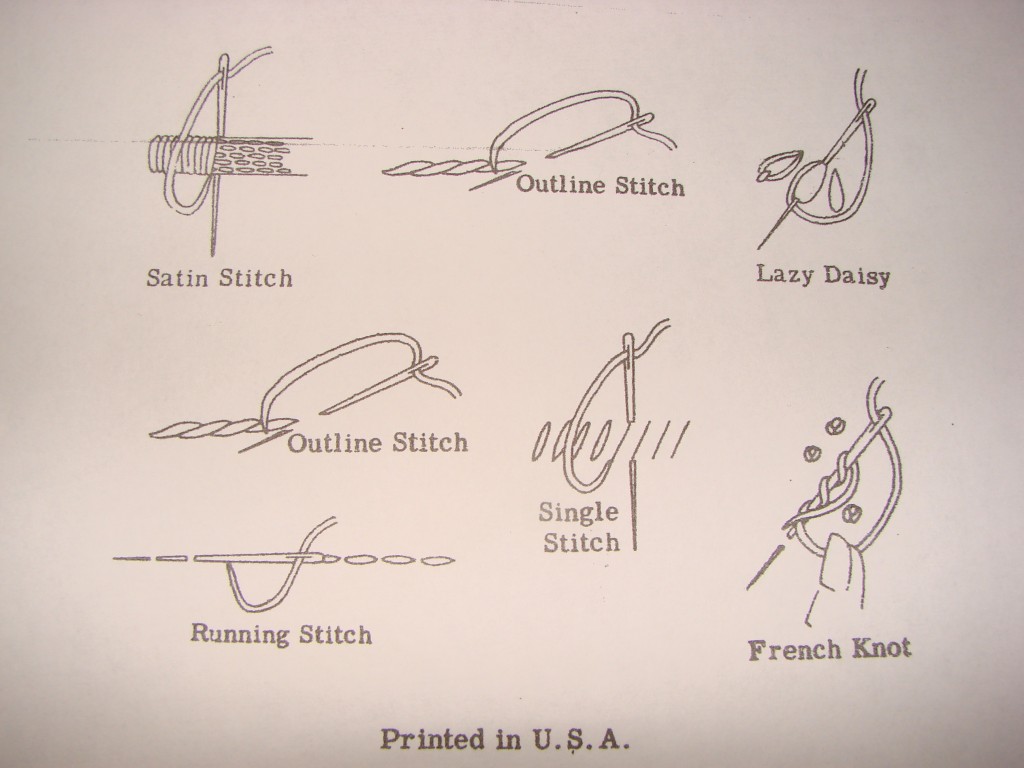 Even though the stitching itself is easy, the overall project is pretty time-consuming… It took me about 3 weeks (working on it just at night and on weekends.)
If you want the back of your towels to look pretty, when you are done embroidering a specific area, after you tie off, run the end of the thread back underneath the previous stitching before you snip it. And then snip it very close. I actually pull the thread hard after I run it back under about an inch of the previous stitching — so that the fabric bunches up a tiny bit — before I snip. Then when I smooth the fabric back into its original shape, the end of the thread is completely hidden.
I did some embroidery-plus-crochet at the edges of my towels, so they would have the dainty appearance that Grandma's tea towels always did. I have given some instructions on how to do this, in another post.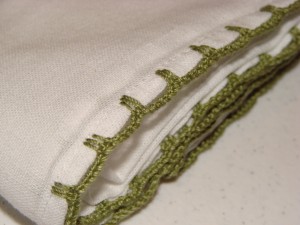 Here is the final product; I'm quite pleased with the outcome (and my co-worker said she liked them, too!)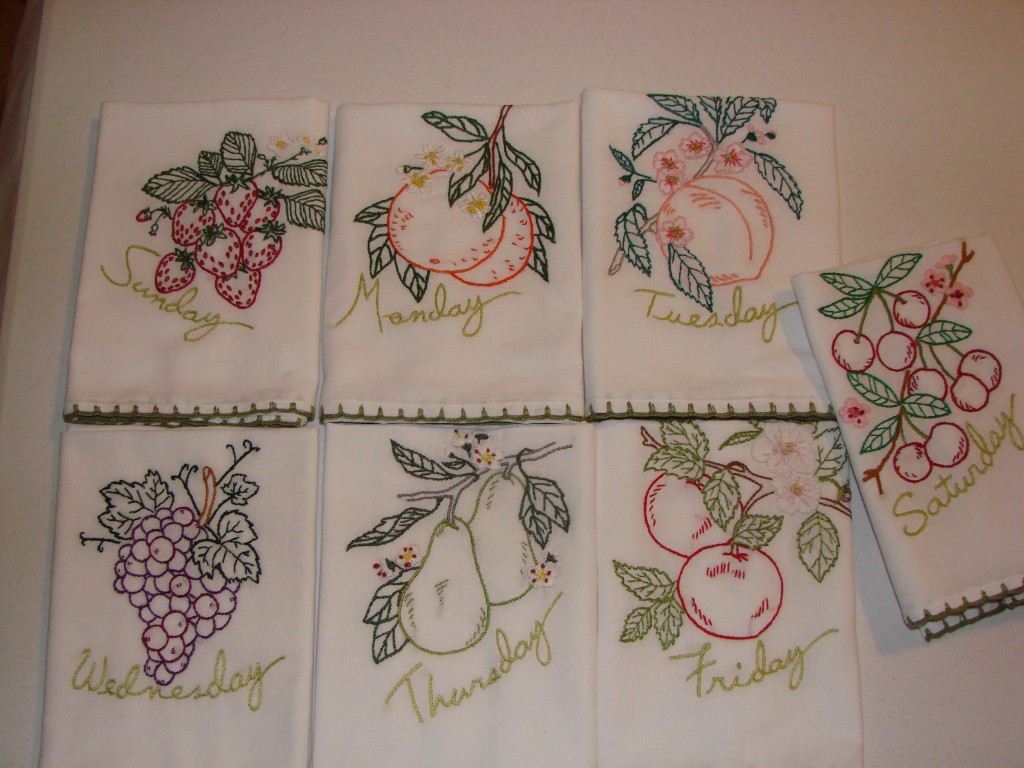 o
Related Posts :