May the odds be ever in your favor!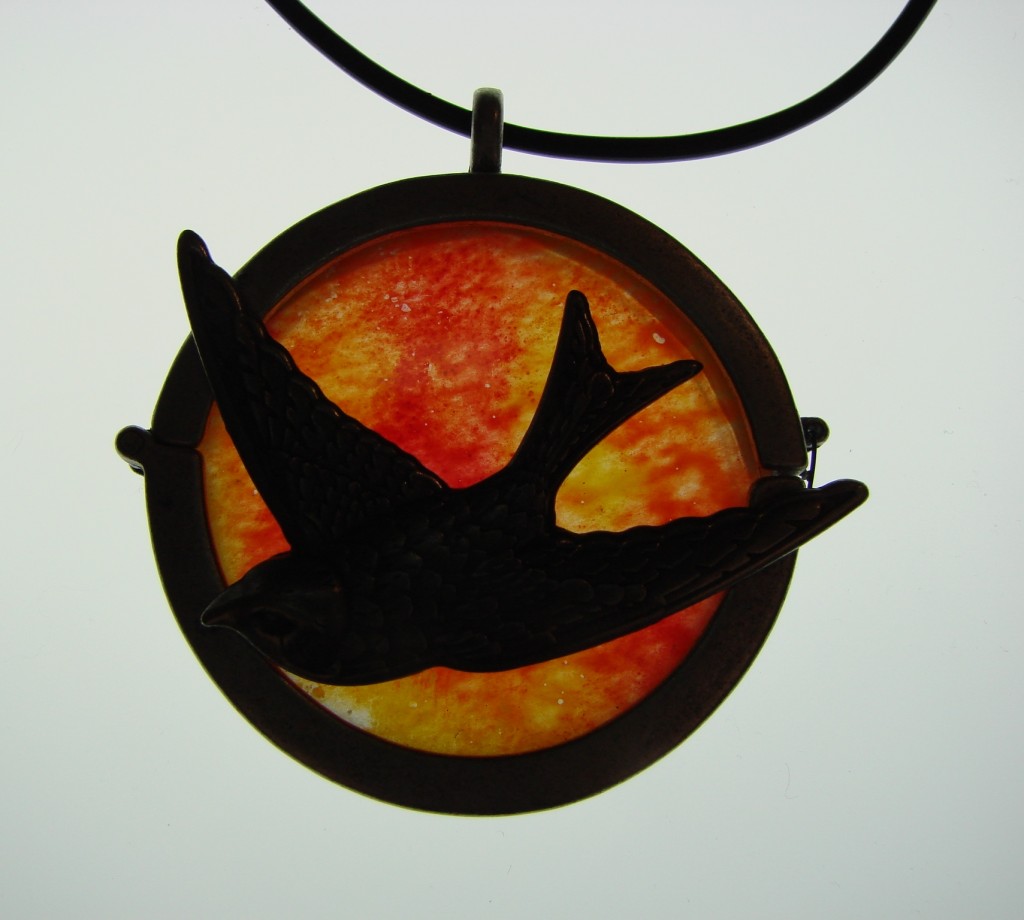 Have you read or seen the Hunger Games? My son, Will, was actually the person who got me started on the book series, and then the whole family saw the movie when it came out.
As I so often do, I participated in a craft swap on the Craftster web site in early March, this one with a Hunger Games theme. This time, there was a twist — Will and I worked as a team! He decided what items we would swap, and he got to keep the (amazing and wonderful!) loot that our swap partner sent.
We made a "District 12" leather wrist band: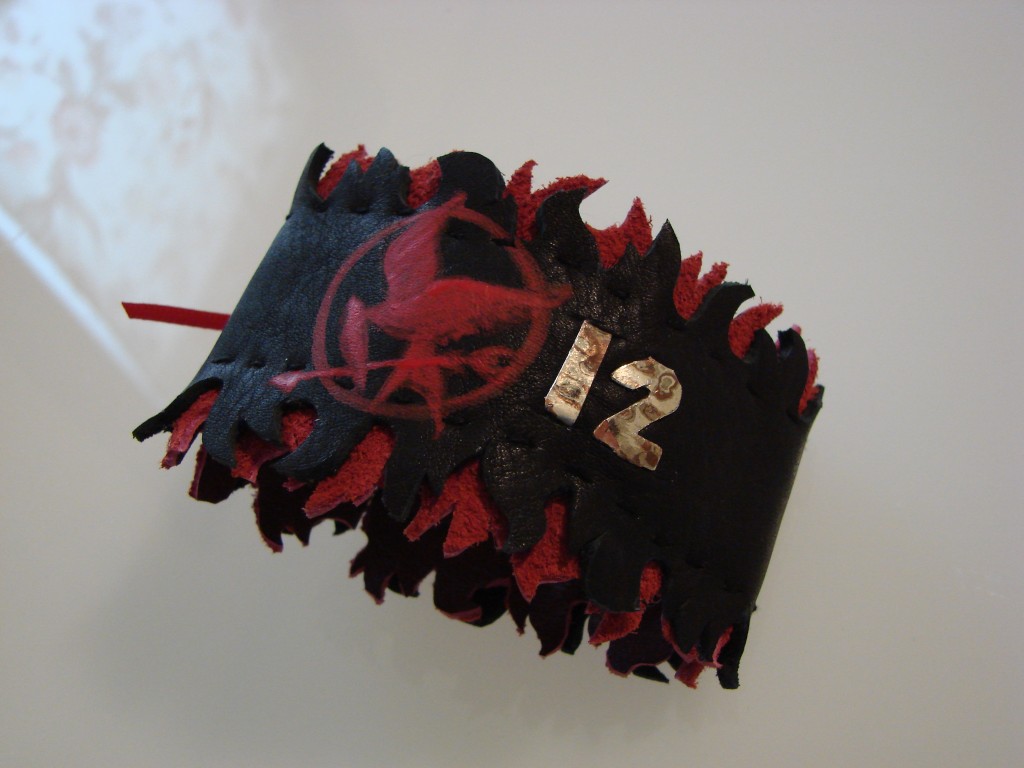 …and a Mockingjay/Girl on Fire pendant.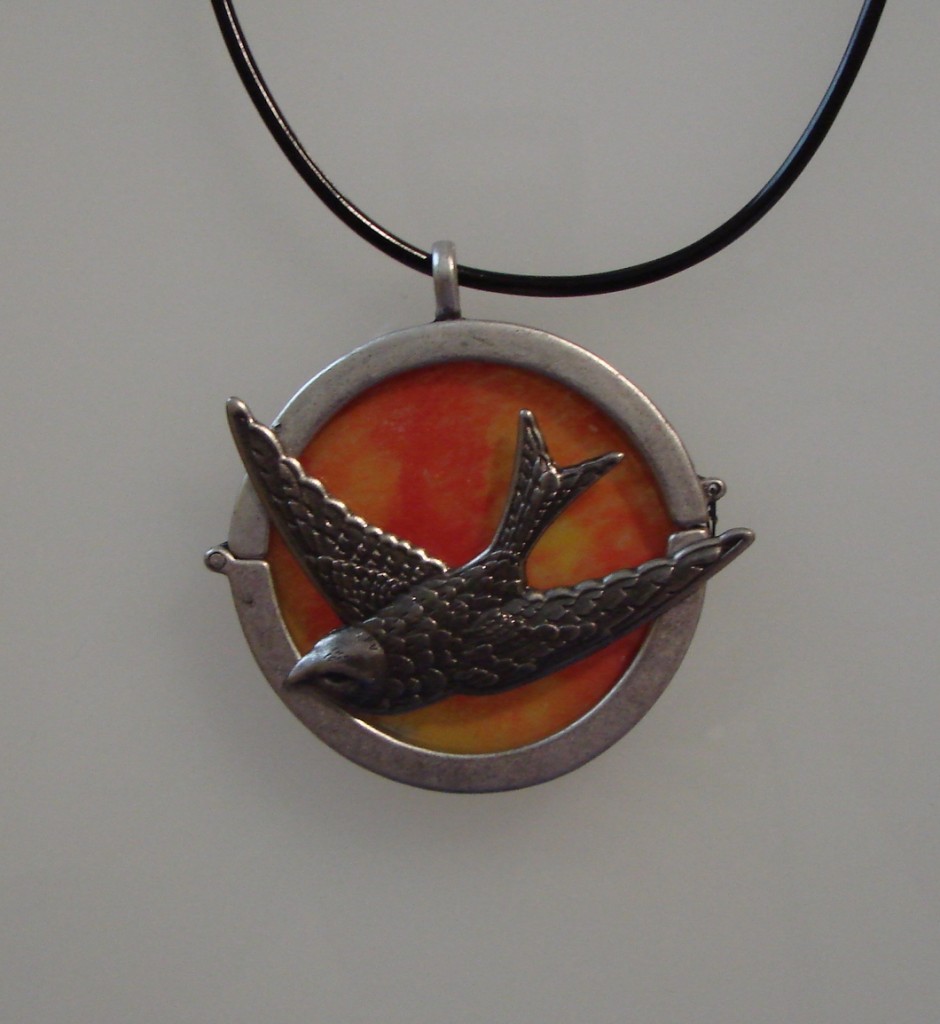 If you want to know something about the pendant, you can click over to the tutorial I just posted showing how to make a similar pendant from old string tags and crayon shavings.
There's no tutorial for the wrist band, but it is just two colors of leather, with both edges cut to resemble flames, then stitched together and embellished with paint and metal cut-outs.
The metal for the numbers was scrap from a project I made more than 20 years ago (gee, am I a hoarder or what, if I save SCRAP metal for that long?!?! My excuse is that it was silver and copper, so it seemed like a terrible waste to just throw it away.) I had taken a metalworking class at the local community college and I did a project where I tried to use a Japanese technique called Mokume Gane.
Of course, my poor attempt did not look anything like the amazing designs I was trying to replicate! But I did make myself a ring and earring/pendant (that was supposed to resemble a cratered moon):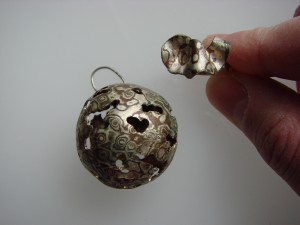 …and my (very generous) instructor gave me a decent grade anyway, since I had tackled a project with such a high level of difficulty, during my first (and only) semester in the class.
He was a great guy, and I learned a lot. I remember he had a John Barth quote posted on the wall, for the entire semester. It must have made an impression on me, because I still remember it decades later:
"My feeling about technique in art is that it has about the same value as technique in lovemaking. Heartfelt ineptitude has its appeal and so does heartless skill; but what you want is passionate virtuosity."
My poor attempt at Mokume Gane obviously embodied the "heartfelt ineptitude"! But it was passionately attempted, at a time in my life when the world felt giddy with possibility.  The class made me feel very capable and powerful, as I used a torch to heat the metal until it glowed, and then coaxed it into shape.
I also made a friend that semester — like me, one of the few women in the class. She is now a professional jewelry artist! (Hi, Mary!)
Related Posts :