Bazinga!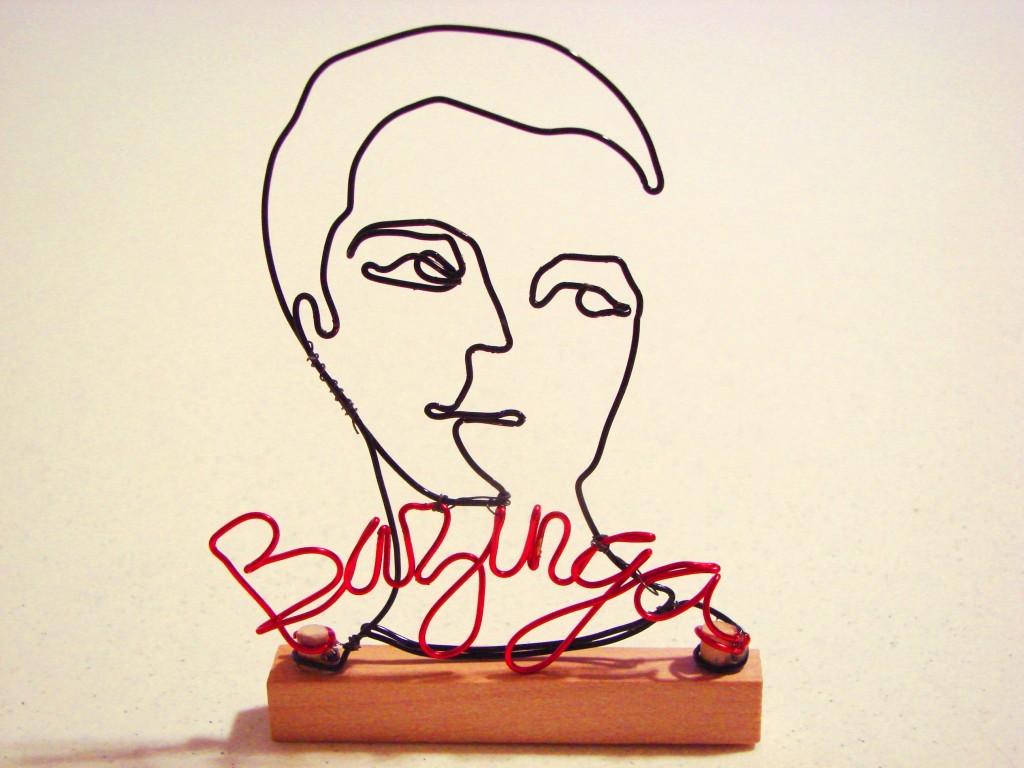 On the Internet a few weeks ago, I ran across Gavin Worth's wonderful wire sculptures. They are beautiful art pieces, like contour drawings pulled off the page into the three-dimensional world.   I knew I was eventually going to have to try the technique myself.
As a fan of the television show Big Bang Theory, I recently joined a BBT-themed craft swap, which gave me a perfect opportunity to give it a whirl. My swap partner's favorite character is Sheldon Cooper, who likes to say, "Bazinga!" when he delivers a punch line. So I did a wire rendition of Sheldon, along with his classic interjection.
The whole thing is composed of three, 18-gauge wires (and some very thin beading wire, holding the other wires in place), stuck to the wooden base with some sturdy glue. One black wire creates the left side of his face, a second black wire creates the right side, and a red wire forms the word "bazinga".
I started by enlarging a picture of his face, then used a black marker to trace the contours, mapping out the path of each wire. (The plan had to be altered a bit as I went along.) It was sometimes challenging to figure out the best path for the wire to take, to avoid back-tracking.
Use needle-nose pliers to bend the wire, laying it down on top of the contour map after every turn, to be sure you're staying on the right path.
It can be tricky to bend the wire into small details, so it's important to try to identify key features and focus on getting those right. For Shedon, his hairline and elfin eyebrows were the features that stood out for me.
Wiring the three pieces together with the beading wire, and gluing it to the base, secures everything in place. (Gavin Worth doesn't have to do that with his works, but hey, I'm just crafting a poor imitation of his masterpieces!)
The little wooden base thingy was purchased for a quarter at my local recycled craft materials shop. I don't know what it was in its former life, but its two small posts made it perefct for this purpose. Any block of wood would work well for the base. You could drill holes in the base and insert the wires into the holes. You could also paint the base or decorate it, if you wanted to. I preferred the look of the plain, unadorned base for this piece.
Related Posts :